Documents
Documents you can download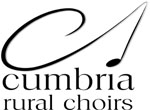 You may download any documents here by right-clicking on the link and choosing "Save link as…" from the list of options.
Rehearsals - cancelled during March 2020
PLEASE NOTE THAT, DUE TO THE POSTPONEMENT OF THE CONCERT IN MARCH, THERE WILL BE NO REHEARSALS DURING MARCH.
Returning copies of the scores: borrowed copies of the Finzi and Will Todd should be returned as soon as possible. You can do this in several ways:
Take them to Bookends in Keswick FAO Mike Smith; or
Return them to Margaret & Clive by lunch time on Monday 16th March; or
Post them directly to Ulrike Smith
We will arrange to borrow them again for the Autumn and will try to make sure that you have the same numbered copy to use again.
In addition, if you borrowed a black folder please return it as above.
Additional material
Midi rehearsal files for Finzi's Intimations of Immortality are available from the website learnchoralmusic.co.uk.
Forms
Flyers and posters for the next concert:
To be made available at the earliest opportunity
Complete list of concerts to date